Snapchat is one of the fastest growing social networking sites and has more than 150 million active users daily. If you have already decided to use Snapchat for the promotion of your business you have taken the right decision. Cultivating proper marketing strategies on Snapchat can early popularity of your business and eventually help it to foster. Snaps on Snapchat remains till it is viewed and vanishes after one watch. This ensures undivided attention from the people following your posts. Snapchat offers unique features and has different functions than those of 'Facebook', 'Twitter' and 'Instagram.' Though many have complained it to be a bit more inconvenient such features can actually seem advantageous for the growth of your business. Snapchat will increase the opportunity and potential for your business to flourish and be prominent. Wondering how to advance with this social network if you have a beauty business? Here are 10 must ways that will surely bear fruits for your Beauty Business.
  1. Target Your Audience
Snapchat has a distinct feature to reach people based on demography. Snapchat basically has users with age varying from 18 to 35. Follow the trend of campaigning on Snapchat in such a way that you aim to reach out to teens and young adults who are more enthusiastic and reactive than older people. Attracting followers also depend upon the type of business you are dealing with and if it is a beauty business then people will naturally be more attentive to your contents. Stay true to the audience you want to attract particularly.
Information
Picture Courtesy: 
  2. Campaign for more Audience Engagement
The best example that can be provided is a soap brand called 'Dove'. Within the duration of 2 hours, more than 30 women communicated with psychologists on Snapchat to share thoughts, stories and ideas on self-esteem issues and confidence problems in a campaign to boost others audiences. Various campaigns for your beauty business, product brand and other inspirational thoughts can be shared with followers through Snapchat campaigns to encourage other young adults mainly.
Information
Picture Courtesy: shannon
  3. Increase the Content
Frequent updates and publishing on your business will keep audiences attentive and knowledgeable. Providing demos of your products and sharing valuable tips and useful tutorials will pull in more followers. You can also share the history of your business and other inspirations. Uploading short video clips of your new launches and behind-the-scenes of production will interest people more. An active participation will keep the eyes open from all.
Information
  4. Increase Communication
The next that comes in is the constant communication with all. This will create a cordial relationship with your customers. The main purpose of social media is communication and it never happens from one side. A proper communication and reciprocation build faith and trust. Respond to your followers and allow a personal touch. Imagine how wonderful it will feel to get responses from audiences and customers on your posts that you share for your followers to see! An active participation and communication is the key factor to hold your customers in hand. Great marketing starts with a great conversation. Your clients and customers should know you as a person who is owning a company. Think how great it is to be able to directly communicate with the owner of your favourite brand or business of interest.
Information
  5. Share Your Live Events and Programmes
Snapchat does not allow one to upload images and videos from their phone gallery. Shoot live videos and upload those raw videos concerning your business of their interest to earn more viewers and attention. Whenever a new product is launched, you can shoot a short clip or a glimpse of the event so that people can enjoy it even if they were not present during the event. Even you can win participation from more people for the new launch.
Information
  6. Snapchat Ads, Offers and Promotions
Frequent Snapchat Ads will bring your business under notice. That is the purpose of advertisement to create brand awareness. Also offers, discounts and promotions will allure more customers and increase your sales. You can share and provide offers and discount codes of your business to your customers who can take a screenshot of the image given by you to use for online shopping from your website or at stores.
Information
Picture Courtesy: Felix Keller
  7. Cross Promotion and Crowdsourcing
Encourage your followers to snap pictures of themselves with your products. Tell your close friends and other well-wishers to share their product reviews. Providing exciting gifts in return will make more people do so. Tell them to share their images on other social networking sites too like 'Facebook' and 'Instagram.' You can also share the contents with your followers on those social networking sites. This will rapidly increase interests among many and eventually increase your clients and customers base. Crowdsourcing is a very effective and an influential technique. Share relevant contents and tell your followers to cross-promote which will widen your circle of people.
Information
Picture Courtesy: Kyle Gunnels
  8. Create Your Frames and Filters

'Geo-filters' are funny overlays to the snaps that you post. Snapchat allows the option to create your own filter and frame depending upon your location. These are called 'geo-tags.' There are unique 'geo-filters' for various monuments, restaurants and cities. You can also create different 'geo-filters' every time there is an event and programme for your business. On following instructions, you can create attractive and exclusive filters. The cost for the filters depends upon the design and the running length of the filter. Snapchat also has the option to doodle an image and add Snapchat lenses.
Information
  9. Giveaways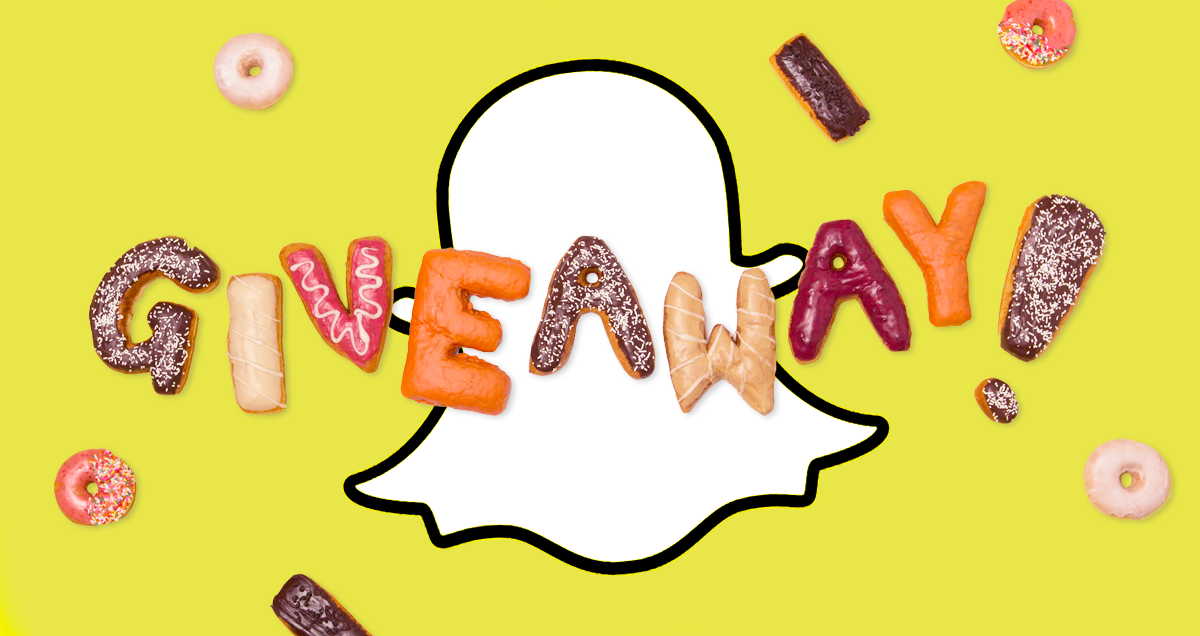 Giveaways will invite active participation from your followers. You can give out gifts and free tickets for promotional benefits to your customers in favour of something. You can advertise the giveaways. Give out free tickets of your event for example. Request people to add your business on Snapchat and send a snap of it as a proof against which the giveaways will be given.  Allow your users to pass the information to their friends to gain additional entry tickets to your events. Eventually more people will attend your events and also buy your beauty products. This will stimulate a great growth by direct physical presence that will assure your more profits in future. This marketing strategy will bring about a long-time benefit.
Information
10. Marketing by Influencers
It is difficult to build a large number of followers on Snapchat compared to the social media networks like 'Facebook' and 'Instagram.'. Influencer marketing is another vital way to expand the number of followers who are mostly your clients and customers. Snapchat has many influential users with a large number of followers. You can grow a partnership with those followers who in return will increase your site views, followers, level of engagements and increase sales. Endorsing by influencers or Snapchatters with huge fan followers in all social media can boost your brand. It is even better if they are working at the same or the complementary industry and not a competitor of course. Leverage more and more such people who will cross promote your beauty products and business.
Snapchat can track the views and the number of times screenshots were taken of them. This can help you to track the engagement of the audiences and you can always try to increase it more and in a better way. You can strategically assign responsibility on someone to take care of your account and upload regular contents of your business to increase public relations. Be casual and cool with your approach that your Snapchatting always do not seem like advertising. This will ruin the follower base. The portrayal of your business should be authentic. Incorporating Snapchat into your marketing strategy will ensure a steep growth in your business. Though Snapchat is available only on mobile phones, it did not stop its growth but rather made it stand out than other social networks. With a little practice, you can apply Snapchat to its full potential to bring fruitful results to your beauty business.
Information
Picture Courtesy: Mediakix
Featured Picture Courtesy: Clothes & Camera